Rockin' debut
Rockwind Community Links provides spotlight for Hobbs and template for community golf done the right way

HOBBS – The May 18-22 debut of Rockwind Community Links in Hobbs drew a quartet of golf's stars of past and present as well as scores of the state's top golf luminary and most respected professionals. It was a five-day send-up that will never be forgotten in this region of the Land of Enchantment and likely never be repeated, at least in this corner of the desert.
World Golf Hall of Famer Fred Couples, who's only played golf in New Mexico once, flew in to Hobbs for the course's official ribbon cutting and ceremonial first drive.
He was followed to the course three days later by one of the game's all-time greats, Lee Trevino, who was on hand for a special fundraising event along with Champions Tour pro Jim Colbert and LPGA standout Natalie Gulbis.
But the debut was much more than flash and dash. The opening of the city-owned and operated Rockwind Community Links revealed a totally new golf course on the bones of one that was old and outdated – it's also one of the few new courses coming on line anywhere in the United States. This course is a template of how the game of golf, under the correct stewardship, can be used as both as asset to a town's residents and as a draw for tourism.

"We're investing in quality of life, and we're telling the world we want people to come and live and prosper here," said Hobbs mayor Sam Cobb, the top elected official of this city of some 45,000 citizens on the eastern Texas/New Mexico border and hour and half northwest of Midland. "We believe Rockwind will be the focus of our community and we're investing heavily in golf for our youth."
Built on the site of the former Ocotillo Park Golf Course, Rockwind Community Links was designed by Scottsdale-based architect Andy Staples. Staples' work has produced a 27-hole golf facility that includes a 7,102-yard regulation 18-hole track and a nine-hole beginners' course, nicknamed "Li'l Rock," with holes ranging in length from 35 to 185 yards. The main course offers five sets of tees. Both courses have been designed to embrace the flat nature of the southeastern New Mexico landscape, keeping irrigation to a minimum and the turf fast and firm.
Surrounding the course is an expansive walking and bicycle trail and a municipal park, two key aspects of Staples' Community Links initiative. The program, which Staples hopes to expand to other municipalities, looks to create a shift in the way a golf course is viewed within its community and focuses on how a golf facility can be more utilized as a valuable asset.
"Community Links looks to explore possible alternative revenue streams other than green fees and golf related activities for golf courses and expands facility benefits to increase facility use by non-golfers," Staples explained. "We also look to maximize our precious resources with the efficient use of water, energy and fuel."
The $12 million renovation was paid for in cash, meaning the facility will have a leg up on earning its keep rather than paying off debt.
Rockwind Community Links is bringing Hobbs and its citizens out into the fresh air and sun and together as a community. The focus of the entire project was to link the golf course to the fabric of life in Hobbs. The course provides a welcoming environment to bring families, kids and new golfers of all ages to the game of golf. The facility also participates as a member of The First Tee of Southeastern New Mexico.
"When we heard the vision that Andy had for how our golf course could be transformed into an asset for the entire community, we immediately became intrigued," City Manager JJ Murphy said. "Now that we've had a chance to see the vision here and providing all we hoped it would, there's an excitement for this course I have not seen before."
Staples dredged out a 5.3-acre irrigation lake at the course's center (which holds 13.5 million gallons of effluent water) and used the dirt from the excavation to add elevation change to the almost-flat original site. There are berms and mounds throughout the new course and plenty of elevated and putting surfaces, many of which are segmented by ridges that add spice and challenge.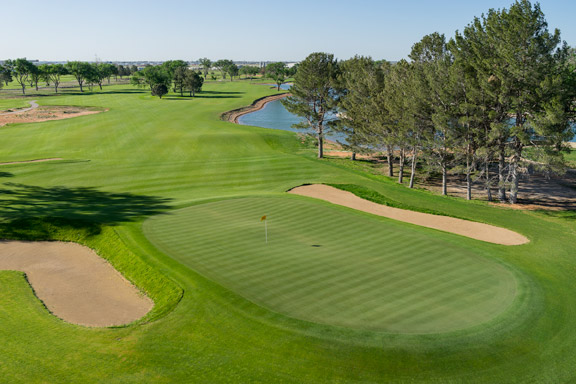 The fairways at Rockwind Community Links are wide and inviting, but the real tests begin if one's approach shot is not played to the proper section of the greens.
Rock walls built from native caliche line some of the holes, including across the fairway at the 484-yard par-5 16th and a stream fed by the irrigation lake makes frequent appearances throughout the course. Staples kept hundreds of mature trees planted in 1955 on the site, which gives Rockwind Community Links the feel of a much older course, as well as some needed shade and aiming points for players. The designer has incorporated characteristics typically found on courses along the eastern seaboard of the U.S. that were built during the turn of the 20th century and provides challenging features such as disguised bunkers and interesting ground contours.
The nine-hole "Li'l Rock" is meant to complement the facility's expanded practice range and short game area. It was built to facilitate walking, families, beginner golfers and kids.
A round at Rockwind Community Links offers up a little bit of everything; Staples designed the course to reveal itself over multiple rounds, and it might take players two or three trips around the track to understand its nuisances.
The front-nine sports back-to-back par-5s at the fourth and fifth holes, the latter of which is dotted with deep grass craters left by Staples from the era when the site was used for practice bombing runs by the nearby Army Air Force base.
The back-nine is in a nifty 3-3-3 combination of par-3s, 4s and 5s and includes one of the most difficult one-shotters (the 245-yard 15th hole) that I've ever played. The round concludes with a 591-yard par-5 (the longest hole at Rockwind Community Links) and in the shadow of the facility's gleaming new clubhouse.
Rockwind Community Links will play a key role in changing how the city views itself. It has already drawn kudos for its design and playability and is a certainty for awards for Best Renovation and Best New Public Golf Course.
For more information on Rockwind Community Links, visit their website at: http://www.rockwindgolfcourse.com